How Thermal Transfer Ribbons Work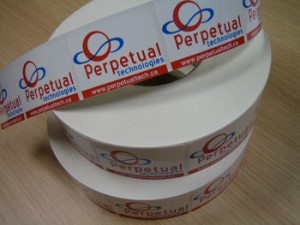 Thermal transfer ribbons look like rolls of tape, usually black, but other colors can be used as well. They are wound on cores, either plastic or cardboard, which are used to properly lock the ribbons inside printers. They contain ink that, when heated, melts and transfers to the label substrate where it quickly dries off. That is how images are produced on the label.
The heat used in thermal transfer technology is lower than the heat for laser printing. That is why you can use a wide selection of label facestocks and adhesives that will not melt or disintegrate under extreme heat.
Matching appropriate ribbons and label facestocks is only one thing to worry about; the other is choosing ribbons that are compatible with your printer. When purchasing thermal transfer ribbons, you always have to specify what type of printer you are using.